Player Review
Clyde Drexler '92
As another Team USA member, this card is OP AF. I've got this card buy pulled 6 20-pack boxes on the first day (got 2 Rose, 2 Wilt, 1 Kidd and 4 of those 6 amethyst cards from them, feels worthy!) I replaced my Diamond Harden by him, and set T-MAC on bench. Curret line-up as link shows. I've played 2 MTO games with Glider, got 21-3-5 average in 2 quarters per game.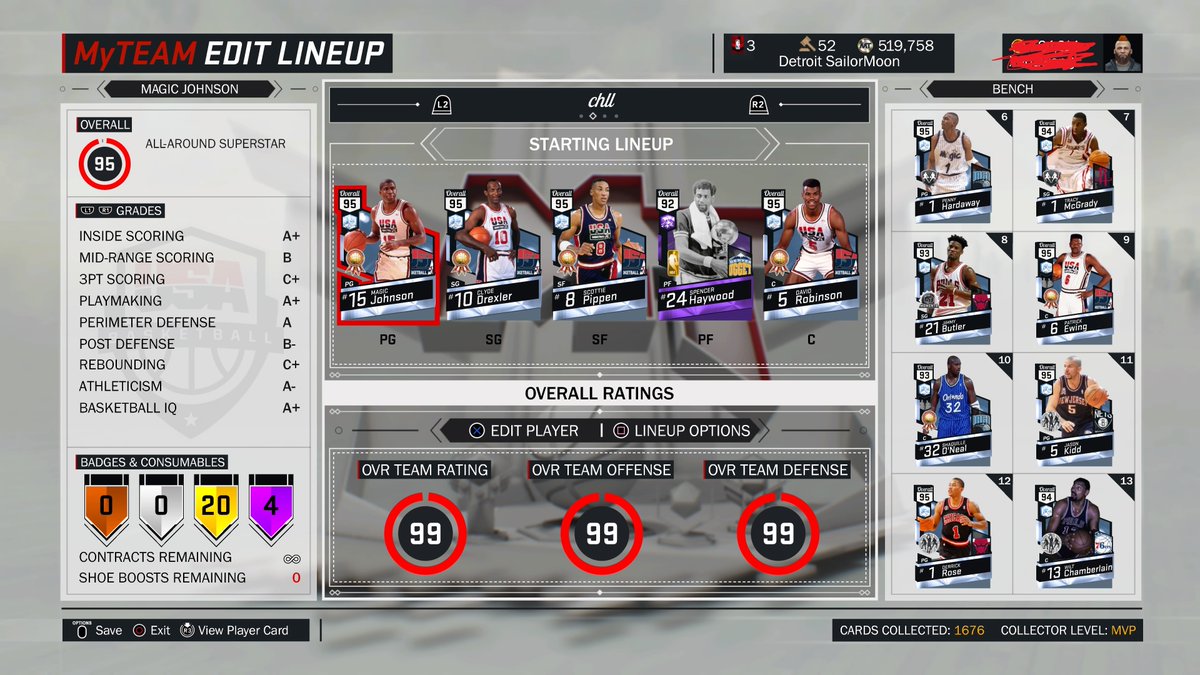 Just like the package named, he is so "all around". He can score inside/outside of the lane, pass, rebound, . Flat out, the best SG currently if you're not a "dribble n 3" guy.(Unless you count PD Kobe, then he's 2nd best.) This card is actually a PD, 2nd most total attributes of 4073 after PD Sir Charles.(They lower the overall by intangible.)
Bought for: 6 20-pack boxes plus 100kMT for Billups & Jalen Rose. (Still got several extra copies unsold in auction worth approximately 700K).
Strengths:
Shooting: Jumpers release are good and easy, green all day.
Dunk: Incredible slam dunker, easy to make slams on big centers. 90 contact dunk.
Defense: Defending from 1 to 3 and some of 4s with no problem.
Playmaking: Give him a dimer badge and a flash passer, he rarely TO passing in game.
Weaknesses:
Dunk package:Useless "gliding in the air", kinda slow. Could be better, or at least looks better. Not even as entertaining as Grant Hill's package.
Off dribble 3: Only shot catch n shot 3 please, he's not Harden, Kobe, T-Mac or Curry.
Speed with ball: He's faster without ball. Run plays or fastbreaks instead of letting him play as PG. But 84 speed with ball is surely still acceptable in most cases. Not a big concern.
Expensive: This card is expensive, cost at least 600K MT after this week. A 25k Butler will be more efficient if you can't afford it.
Recommended Strategy: No need to force using him, he's powerful all around. Call plays, drive 1v1, catch and shoot, mid-range pull-up, post moves. Very easy to get 20 pts even with my line-up.
Use if: "You want an athletic all-around SG, and familiar with defense & plays."
Don't use if: "Your play style is dribble around pointless then shot 3." or "you don't care about defending."
Bottom Line: "Best start up SG with decent defending skill until Jordan release."
---