Player Review
J.R. Smith '17
This card is a scoring machine.Got it on the first day of release(11/14/2017). This is the first review from a real owner. Many pros and only a few cons, flat out OP and worthful but costly card.
How to get: Completing Bench Booster collection. (7 boxes plus sell and buy finished this)
Strengths:
He is OP on offensive end, can score everywhere with all type other than post moves
Outside scoring: HOF deep range deadeye + smooth & fast release + A+ attributes = crazy hot.
Penetration: Good dunking ability, good draw foul ability, 2+1 a lot. Dunk package is not as good as Kobe but better than most SGs.
Weaknesses:
Rebounding: don't play him as position 3-5.
Speed on ball: 85 is not fast enough, give him a diamond shoe then he's the beast. The driving package is trash btw.
D: average D ability.
Length & strength: not a big problem for now in Nov, but will be an issue later when new cards released.
Strategy
Using JR:
1, ISO, scoring freely as you want;
2, give him P&R Mastero and dimer badges then he is awesome on P&R (scoring and distributing both).
Against JR: Nurf his HOF badge is 80% of the work you need to do to beat this guy. So defensive stopper or GG!
1, Use bigger guy equipped with a defensive stopper such as the King or the Greek Freak to guard him ;
2, he is not that good on D, bigger player with good ball control like Reggie Theus or Penny kind player can also answer back he's score well or even outscores him (depend on how good you are) at this point. More players can beat him later fo sho.
Examples: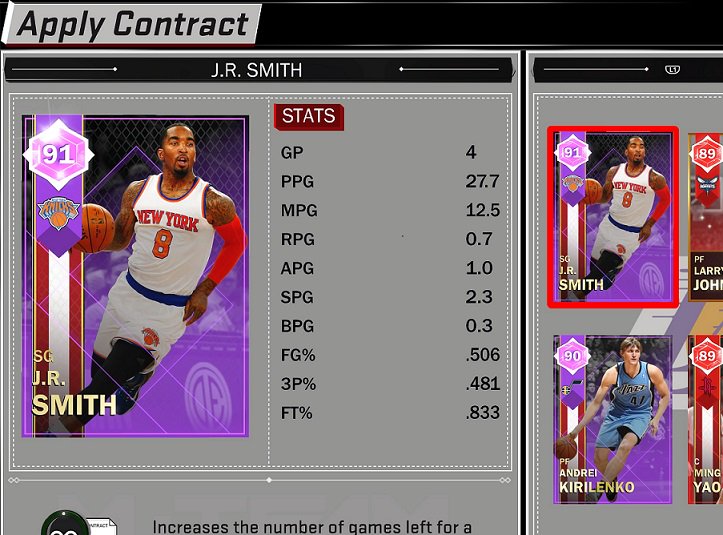 I was spam shooting with JR for testing in these four. So assume his PPG will drop but FG% and 3PT% will raise.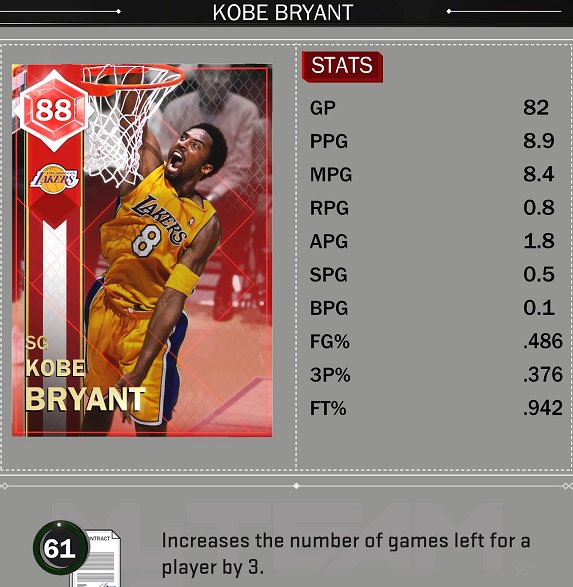 Good News(update 11/16/17): Kobe now updated as a duo with the Emerald Jordan, even better bench for JR, LOL. (Kobe's badge and release are worse)
Other:
Use if: You can afford and you want to be PD big max player, cost at least 400K MP at least for now
Don't use if: You don't like my player mode or you're patient for other cost-efficient cards. (skill is more important than cards).
Bottom Line: By completing the Bench Booster collection you can also get other 3 recommended valuable cards: 1, a crazy stretch big: 7'3" C-Sabonis; 2, defensive machine ruby Pippen; 3, and all-around Sapphire SF Diaw is even more useful than Pippen. I benched my Kobe for this JR, and initial 4 big max games proved its value. It will be the best SG until the next premium reward or diamond SG release (assuming at least one month).
---