Player Review
De'Aaron Fox
Fox is a very good PG, if you like PGs like Westbrook you will like Fox. He is fast, he finishes very well and a very good shot. This guy's way too fast, no one can stop him once he's gone. He also has a correct defence and above all a sense of steal.
Bought for: 10,000 MT (PC)
Steal : It is very easy to make interceptions with him, his defense on the ball being correct it makes him a good defender on posts 1 and 2. I find that his steal are very good at the animation level which very often allows the rapid transition or even end up by itself with its speed to cross the ground

Passing : He is a good passer, for long or short passes, but also for spectacular passes, something I really appreciate. I also noticed that it was very accurate on the Alley Oop passes, with DeMarcus and Ayton in the racket it makes a carnage.

Speed : This guy is much too fast, at every transition it's a pleasure to play with. If we add its passing and finishing qualities, Fox's speed can be very well exploited.

Dunk and finish : Its finish is excellent and dunks very good, i made some posters with Fox but i have a lot of dunkers in transition. I have been very little blocked (?), but i am careful to collect the hand of dunk according to position of opponent. Fantastic.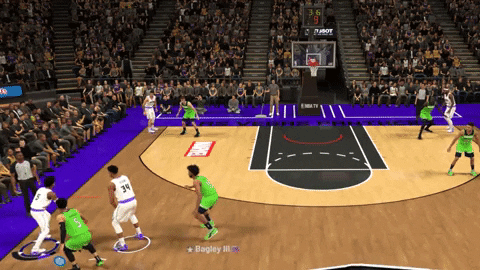 Shoot : His release for the shoot is very good, when it is open you can make greens without worries, i like left-handed people so it's an advantage too. Gold Deep Range Deadeye helps him with shoots a little far away and it works very well.

Height: It's a little too small it's a pity, it's enough against the classic leaders but against SF it can be a problem, fortunately with the last update it allows to improve this aspect. Westbrook being my PG doesn't bother me too much but it can be for some.

Post : His playing at post is bad (necessarily when you see his notes), as said earlier I was playing with Westbrook who has no worries about that. I tried i had a few shots but it's not effective given the number of failed shots post.
Recommended Strategy: Drive, create and shoot
Use if: You want an true point guard quite complete
Don't use if: You need tall point guard with post-control
Bottom Line: Fox is a very good player who has won a place on my team, he is complete on his post and efficient, his takeover is very strong too. Given its price, the risk is very low if you want to get it.
---